Free E-book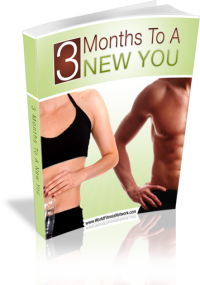 Free E-book About Changing Your Body Type: 3 Months to a New You
Want to change the way you look? Are you sick of not seeing the results you want? If so, downloading this free guide will help you to get where you're going.
Subscribe now and I'll email you this book in easy-to-read PDF format.  Of course, you can unsubscribe at any time.
3 Months to a New You is a free report written to help you change your body type. It will help you do the following:
Change the way you look and feel
Become stronger/ build muscle
Lose fat
Strengthen your bones and joints
Get your eating back on track
Find new energy in your life through lifting weights and eating right
In addition, 3 Months to a New You provides you with a workout plan and schedule that you can fit into your normal schedule without having to spend your whole life in the gym. The exercise program is designed to help you achieve the following goals:
Build a base of muscle and strength as quickly as possible
Lose fat through an increased metabolism
See results by training 3 times per week
Avoid overtraining
Learn proper technique on the most important exercises
Transition smoothly into an intermediate training routine
Learn how to eat properly and prepare six small meals a day
And much more…
Plus, you'll get access to all the great information on this site – advice that complements the book and helps you get into shape.
Why you should get on the program: The purpose of this e-book and program is to help you to change your body type. You would have to spend countless hours researching to learn how to combine cardio, weight lifting, and eating to get the results you want. You'd have to prepare grocery lists and find dozens of recipes.
3 Months to a New You takes away all the tough planning. It tells you what exercises to do and what to eat for 3 months so that you can hit the ground running. It includes recipes for your daily meals and even a grocery list of what you'll need to buy to get started.
If you're already going to the gym and ready for a more intermediate program, that's fine too. An intermediate training routine is included to help keep you moving.
How to download: 3 Months to a New You can be downloaded for free after you subscribe to the World Fitness Network.
1. Subscribe: Fill in the form to start your subscription.
2. Confirm your email: Log into your email account and follow the link in the confirmation email. Once your account has been confirmed, you will receive free articles from World Fitness Network each week.
3. Download: You'll then get an email with the download instructions for the book.  Plus, the next time an article is placed online at WorldFitnessNetwork.com, you'll receive an email with the newest content included.  Once the e-book has been downloaded, save a copy to your desktop and close your browser for best performance.  This book is free for you, but if your friends want to read it, they need to subscribe themselves.
Note: You may have to check your spam folder or add us as a "safe sender" or enable links in your email in order to see the link at the bottom.
Can I just subscribe through an RSS reader? Yes, but you won't get the free e-book in that case.
Format: This PDF e-book is 50+ pages about how to change your body type and your lifestyle. You are required to have the Adobe Reader to view the e-book which you can download for free by clicking here. Total file size is about 1.5 Megabytes.
Simply follow the steps above to obtain your free copy and get started today.