...
With the increase in emphasis for fitness and lean bodies, many people turn to the gym. That's the right move, say most experts, but only if you are doing the best routines and the right exercises.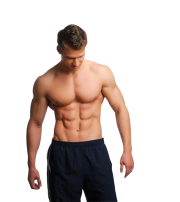 Have you ever asked yourself this same question? I get asked this all the time.
Usually it's because they picked up some muscle magazine that had some sensational headline like "Get Bulging Biceps Women Will Love" or "Get A Chest Like Arnold With This Killer Pec Routine".
Then, they proceed to list out the 14 different weight training exercises, and prescribe how much weight and what the number of sets should be have, which days of the week to do them on, and what color underwear to wear...
Not that you really should be doing such an awful routine, but if you were going to do it, they usually leave out some important stuff. Like... um... how to actually do the exercises...??!?
Even good programs often don't give you much guidance on technique. Which leaves you asking questions like
"My program calls for 'front squats' but I don't know how to do them?"
OR
"How do I know if I'm doing the incline bench press right?"
It's so frustrating!
So rather than answer the same questions over and over, I compiled a 170-page resource for you...
What Is Solid Performance and
"Can It Help Me Maximize My Workouts?"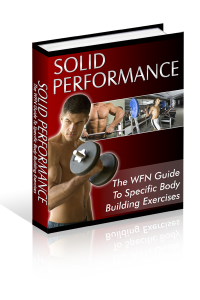 Solid Performance is a collection of over 80 different weight training exercises, with descriptions, pictures, tips.
And each exercise gets almost 2 full pages each! That's a lot of detail so you can be sure you are doing each exercise right.
Of course, we go over what I call The Big 7 but we also go over all the common variations. We also include a few examples with machines for those of you that might not have access to free weights. Yes, free weights are far superior in almost every case, but I've got to be realistic in that not all of you have access to great gyms.
I even include dumbbell variations.
It's 170 pages of detail!
Keep in mind that if you don't know how to do the weight lifting exercises, you are missing out on gains you could be making. I mean think about it - even if you are using what are usually crummy routines in the muscle mags, they assume you know how to do the exercises properly. They certainly don't take up two pages per exercise talking about proper form for each exercise. So if you are just guessing, or even if you are listening to your buddy at the gym, you might be doing them wrong.
If you are using bad form, you probably aren't really getting the most benefit. You could even hurt yourself.
"Definitely this is a must have to everyone interested in a complete and balanced body development... I'm so grateful for this wonderful tool... Keep up the good work."

-Ivan Guerrero
Of course, I didn't make up these exercises and with a lot of research on the web you could probably find the basics on how do to them.
But with Solid Performance you get them all in one resource, plus you get pictures and more descriptive detail than you'll find in the free stuff online.
And you get to see several variations to round out your routine.
Here's What Alex Stefanescu Had To Say
After Reading Solid Performance
Hey Darrin!
Thank you for ... Solid Performance! I have zoomed a bit through it last night and today (zoomed due to the little free time I had and partly due to the fact that it's quite big) and I can say that I am impressed.
I expected a quality e-book, but when I saw it's dimensions and the attention for detail it had, I simply jumped up and down with joy.
You were right in the teleseminar, many magazines start with the confidence that the reader already knows the perfect form and the way to do the weight training exercises, so this book really is a must-have if one doesn't have the time to browse hundreds of web pages to search for the tips contained in your book. I especially like the 'tips from the trainer' parts of the articles, respecting them makes sure that a perfect workout will be had.
Thanks again for your hard work and dedication!
- Alex
What If I Also Included Some Additional Tips
To Help You Get The Most Out Of Every Workout?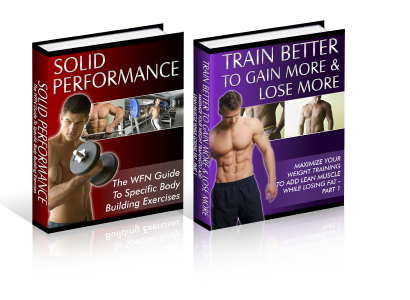 You probably (hopefully) already have a program you are following - a specific set of exercises, # of sets, # of reps, # of days per week, etc. that define your overall routine.
(If you don't, shame on you! Don't just "wing it" in the weight room! Sign up at worldfitness@aweber.com to get on our mailing list, which includes program tips.)
But even if you've got a great program, and you order Solid Performance, you still need some insights to maximize your workouts.
This is especially important for beginners.
So I'm including a copy of Train Better To Gain More and Lose More if you order Solid Performance today!
What Is Train Better and
Why Am I Including It For Free?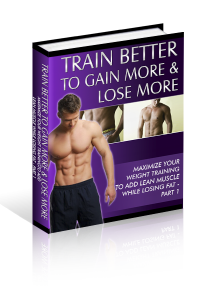 Train Better To Gain More And Lose More goes beyond the exercises and gives advice on the mental side of weight training. Lots of stuff on diet.
Plus, this resource is so valuable for beginners because it has a whole chapter on the basics of weight lifting - things like the different types of barbells, what is a set, etc. So that chapter is critical for newbies.
Actually, here are the chapters:
Weight lifting 101 - purely for beginners
Workout principles - even intermediates will find value in this chapter
Dieting and food - great for everyone on this call
Mental focus - again, important stuff no matter what level you are at
And finally Training Tips - I put this last in the compilation because its important to understand the principles behind the recommendations first.
It's 200 pages of extra advice!
I'm going to include this for free to everyone who buys a copy of Solid Performance tonight. Honestly, I could sell that for another $37 but I'm just going to give it to you because it goes well with Solid Performance.
Mike From the UK is 60 Years Old and
Loved Solid Performance! --
Hello Darrin, I could not wait to get into your book...
Do i like the book? I think it is brilliant mate! I love the illustrations, and the trainers tips. The whole feel of the book is that it has been written by a real professional.
I am so glad you did not limit your target buyer by age as it would have put some people off. What you have written could easily apply to anyone who is does weight training.
I am also very glad you have got a section on the importance of the whole package, not just upper body.
I could go on but had better stop at this point, you have done a brilliant job mate, good luck and i am sure you will have a huge success.
Many thanks, Mike
PS I am 60.