There's a good reason rock climbers use chalk:  improved grip. Chalk improves grip Of course, chalk isn't just good for climbers.  Lifting heavy requires substantial grip tenacity.  Especially in the summer, with humidity high. I've been working my my grip strength for many months now, usually once a week doing plate pinches, towel hangs, etc. at the end of...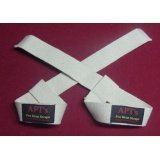 Ten to twenty years ago, wrist straps were common in the weight room. Now I hardly ever see them. What's changed?

I think lifting straps have been unfairly maligned by "strength coaches" as being too "bodybuilder-centric". While I'm more into body building than "bodybuilding", I think wrist straps do have some value...

When Is It Ok To Use...