World's Best Tasting, Fastest, Healthiest Homemade Protein Bars
Well, that headline might be a little sensational.  But they are damn good tasting, can be made in under 5 minutes, and are quite healthy.  Trust me – these are simple to make and I've got the recipe and tricks to make them fast (and even pictures to go with the instructions!) at the end of this post.  In contrast to their simplicity, this turned into a long post!
Last autumn I was addicted to protein bars.  I loved Protein Plus from Powerbar, and Clif Builders from ClifBar.  But I would go for anything that had a lot of protein and tasted good.  I'd have one before, and one after, every workout (I wasn't taking protein shakes).  Yes, I knew the sugar was bad for me.  But they were so yummy!!!
Then in December, as I kicked my training up a notch, I realized I had to kill this fetish.  I had to stop eating these "candy bars with protein" but I still needed convenient access to healthy protein (and a guy can only eat so much chicken and tuna…).   What I needed, was a homemade protein bar.  One that had all the good stuff and none of the bad.
[Aside:  when I was in grad school, my buddy Ross introduced me to his homemade protein bars.  Except, we called them "rope bars" because they were so high in fiber that they were like eating rope; and that's also what they tasted like.  Anyway…]
Goals For The Perfect Protein Bar:
fast to make
high protein
slow carbs (no processed sugar)
taste good
inexpensive
So I did what everyone does these days when we want to find ideas – I went to Google and searched.
Holy cow, there are a bazillion different recipes out there.  I spent hours reading what everyone else was doing.  And I tried a bunch of them.
To Bake Or Not To Bake
Essentially, you've got two classes of protein bars:  those you bake, and those you don't. I tried some of the baked variations but they take too long (especially because you have to cook them at a really low temperature so that you don't degrade the protein powder ingredient).  But the non-bake ones I tried all tasted bad (unless I veered away from the healthiness.
In the end, I threw away everyone else's recipe and came up with my own.  And it achieves 100% of my goals.
Ingredients:
1 lb of no fat cottage cheese
4 tablespoons of

natural

peanut butter
2 cups of whole oats
3 scoops of chocolate-flavored pure whey protein power
That's it!  Couldn't be simpler right? Now, I will state for the record I HATE cottage cheese.  But somehow, in this combo, it tastes awesome!
So now you try.  Here's the process (really, under 5 minutes)…
How To Make These
Here's a picture of the ingredients: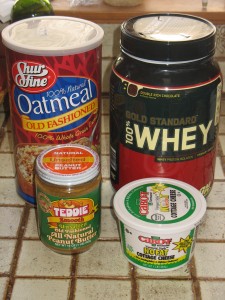 And here's all you need for utensils:  a bowl, a measuring cup, a measuring spoon, and a fork.  [I find it much easier/faster to mix with a fork rather than a spoon.]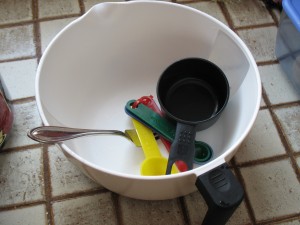 First add all the cottage cheese to the bowl.  Generic brand.  Save the container though!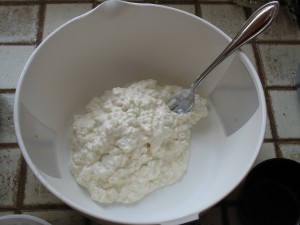 Second, add the oats.  Generic brand is fine.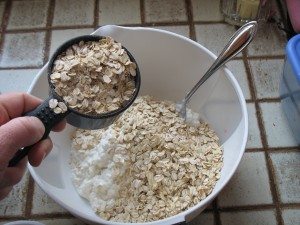 Then the protein powder.  I like the double chocolate flavor from ON but you can experiement.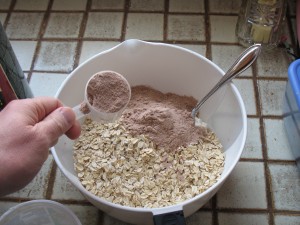 Lastly, add the natural peanut butter.  Make sure this is natural PB – the "regular" stuff has so much sugar it's crazy.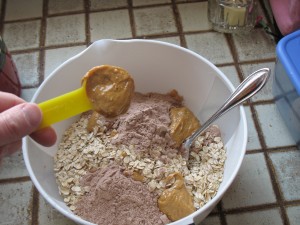 Now take the fork and mix it all at once.  Don't worry, your forearms can handle it!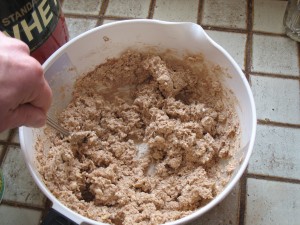 Result has  the consistency of a light tuna fish salad.  Hey, it actually even looks like tuna fish salad…  Anyway, after you've mixed it you can now add it back into the cottage cheese container.  There will be about enough for one and a half containers, so I usually have an extra one around.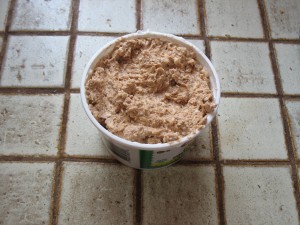 Now here's the only real downside.  You have to store them in the fridge because of the dairy. I've tried to shape them into bars, and they do hold the shape pretty well but since you have to keep them in the fridge anyway, I figured it was too much hassle.  So I just keep them in the container.
Since each batch ends up being about the equivalent of 6 bars, you can do a good job just eyeballing 1/6 of the mix if you are counting calories.  And the cost is under $0.50 per "bar".
Nutritional Content
This results in the following nutritional content for the entire batch:
Calories = 1470
Fat = 45 g
— Sat. Fat = 8 g
— Trans Fat = 0
Cholesterol = 140 mg
Sodium = 1836 mg
Carbs = 147 g
— Fiber = 22 g
— Sugar = 24 g
Protein = 160 g
I break the batch into 6 servings so that means each serving would have (rounding the math):
Calories = 245
Fat = 8 g
— Sat. Fat = 2 g
— Trans Fat = 0
Cholesterol = 23 mg
Sodium = 306 mg
Carbs = 25 g
— Fiber = 4 g
— Sugar = 4 g
Protein =27 g

Highlights – strong protein, low sugar, low fat, slow carbs.  You like?  If so, post your comments here.  And spread the word – post links to this page everywhere!